RallyCross Event #6 - Milwaukee Region SCCA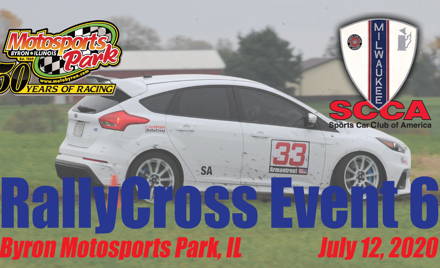 SCCA - Milwaukee Region - RallyCross
Sunday, July 12, 2020
Byron Motorsports Park
,
Byron

,

IL

UPDATE: EVENT IS FULL. YOU WILL BE PLACED ON A WAITLIST AND EMAILED IF A SPOT OPENS UP.

As some of you are aware, Illinois is still under a shelter-in-place plan. We are expecting the state to enter Phase 4 of this plan before the next event which would allow gatherings of up to 50 people.
To comply with this order we are continuing the ban on all spectators and allowing only one non-registered guest per registered driver. INITIALLY, THERE WILL BE A 25 DRIVER CAP FOR THIS EVENT.
During registration you will be asked if you are bringing one guest. If you choose not to bring a guest then that spot will become available for another registered driver. There will be a potential maximum of 45 registered drivers.
We know many of you travel somewhat far to attend these events with a friend or significant others and feel that this is the fairest way to allow a majority of people to race without completely banning family and friends.
Thank you for your understanding.

Schedule:
7:45 - 8:45am     Registration
8:30 - 9:00am     Tech Inspection
7:45 - 9:00am     Course Walking
9:30am               Drivers Meeting & 1st Heat Worker Check-in
10:00am             First Car Off

We strive to finish up around 4:00pm
There will be a hard registration cut off at 8:45am on the day of the event. Please be prompt! Showing up after that won't allow you time to walk the course. 

Entry Fees:
New policy for 2020 - Payment is not taken until AFTER event:
$60 for Annual SCCA member Registration
$75 for Non-member Registration (includes Weekend Membership)
$10 - Late Registration Fee (starts Thursday before the event)